Tips for Getting Rid of Dental Fear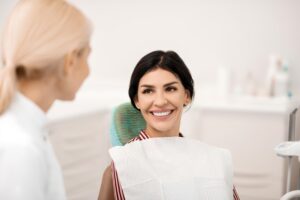 If you suffer from dental anxiety, you're far from alone; around 36% of the US population experiences dentophobia to some extent.* That said, the fact that dental fear is common doesn't make the anxiety that patients face any less severe. When the fear is powerful enough, patients frequently avoid regular dental care – sometimes even for decades at a time. Unfortunately, because oral health plays a crucial part in overall wellness, steering clear of the dentist can not only lead to poor dental hygiene, but to countless additional health problems, as well.
Our Bethesda dentists, Drs. Deborah Klotz and Robert Schlossberg, are both board certified in various sedation (or "sleep dentistry") techniques. They share a passion for nurturing dental anxiety and helping patients face their fears. If dentophobia is keeping you from visiting the dentist, we encourage you to read these tips from Dr. Deb and Dr. Rob:
Communicate your fears. Don't be shy to discuss your dental anxiety with our team! Everyone you'll encounter here, from dentists to hygienists to office staff, sympathizes with the wide range of unpleasant emotions that can stem from a single dental visit (not limited to anxiety, shame, and embarrassment). We've seen it all, and understanding your specific fears can help us provide the proper support during your procedure.
Gradually expose yourself to dental treatments. If you have severe dental anxiety, consider making multiple shorter visits rather than coming in for one long visit. During your first-time appointment, Dr. Deb or Dr. Rob can work with you to build a plan for your care that suits your unique needs.
Bring a friend or loved one. A familiar presence in the dentist's office can be grounding, reassuring, and soothing. Feel free to bring a family member, friend, or significant other to your appointment. (Keep in mind that if oral or IV sedation techniques are being used, we require you to secure a ride home with a friend or family member.)
Consider a sedation dentistry technique. Depending on the treatments being performed and your particular level of discomfort, Dr. Deb and Dr. Rob can administer methods such as oral sedation, nitrous oxide (laughing gas), or IV sedation. These methods (which, in some instances, can be combined) should keep you either asleep or in a very relaxed state for the duration of your care. Additionally, the use of these strategies can make it much more convenient for you to undergo multiple procedures at once.
Remember: at Bethesda Sedation Dentistry, we regularly combat dentophobia with compassion and kindness. We strongly believe sedation dentistry should be available for all patients to allow them to receive the oral health care they need. Don't let fear hold you back; let us help you obtain a confident and fearless smile!
Medical Resources*