Implant-Supported Dentures
Implant-supported dentures are a hybrid of dental implants and traditional dentures. This dental restoration can help patients who are missing multiple or a full arch of teeth. Patients who do not want the slippage or discomfort associated with traditional dentures may find implant-supported dentures to be an optimal solution for their needs. Another key benefit of choosing implant-supported dentures is that it can preserve jawbone density, an advantage that conventional dentures do not have.
Dr. Rob Schlossberg and Dr. Deb Klotz offer a few different options for implant-supported dentures. If you are interested in learning about our advanced implant-supported denture procedures, we encourage you to read more below.
Video Image Placeholder
Full Arch Implant Denture/Teeth
A full arch implant denture is designed to replace a full set of teeth either on the upper or lower arch, or both. A full "lower" arch implant is usually affixed to five dental implants, while a full "upper" arch implant generally needs six implants. Many patients like the full arch implant denture option because the process usually takes less time than other dental implant methods while still achieving the same beautiful, durable results.
Video Image Placeholder
All-on-4® (5 or 6)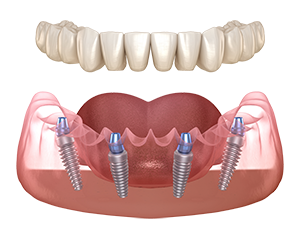 Bethesda Sedation and Implant Dentistry offers All-on-4®, All-on-5, and All-on-6 for patients who have most or all teeth missing in the upper arch, lower arch, or both. The amount of dental implants needed for each all-on option can be found in their names. All-on-4® means that four implants will be placed in the jawbone, All-on-5 utilizes five implants, and All-on-6 uses six implants. Generally speaking, the all-on dental solution that can deliver the best results depends on jawbone density and other needs that are unique to each patient. Dr. Rob or Dr. Deb will be able to help you select the optimal all-on option for your dental needs and goals.
Before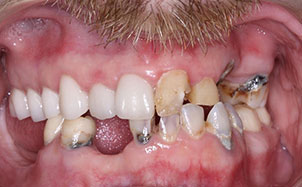 After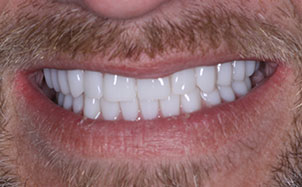 For more information or to schedule a consultation with Dr. Rob or Dr. Deb, we invite you to contact Bethesda Sedation and Implant Dentistry today.