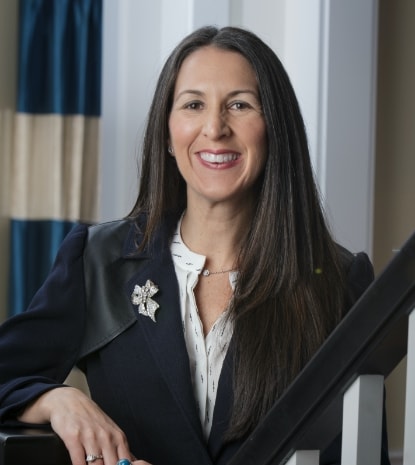 Dr. Deborah Klotz, also known as Dr. Deb to her patients, received her undergraduate degree in journalism from The George Washington University. She then attended The University of Maryland, where she earned her DDS degree with honors. After dental school, Dr. Klotz dedicated herself to continuing education and training. She attended Implant Seminars, completed advanced training sessions at The Misch Institute, and earned a fellowship with the International Congress of Oral Implantology. 
Dr. Klotz is highly knowledgeable about restorative dental solutions. She has completed additional studies with The Dawson Academy and has been taught by esteemed clinicians like Drs. Carl Misch, John Suzuki, Clifford Ruddell, and Michael Pikos. Throughout her time studying with these doctors, Dr. Klotz was able to learn about the latest and most advanced root canal and dental implant techniques. 
When Dr. Klotz is not with patients at the office, she likes to sail out on the Chesapeake Bay and explore the city with her dog, Dharma. She also enjoys spending quality time with her sons, Carter and Bennett, and her husband, Dr. Robert Schlossberg.
Affiliations
Dental Organization for Conscious Sedation – Member
Crown Council – Member
Academy of General Dentistry – Member
International Congress of Oral Implantologists – Fellow
Invisalign® – Provider
Clinical Research Associates (CRA) – Member and Product Evaluator
Implant Seminars Continuum – Graduate
Awarded The Harry B. Schwartz Award for fixed partial prosthodontics
Awarded The Quintessence Award for Clinical Achievement in Periodontics
American Dental Society for Anesthesiology – Member