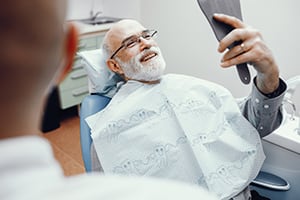 For patients who have missing or badly damaged teeth, dental implants can be an ideal restorative solution. How dental implants work is by acting as a permanent substitute for the root of a lost tooth. An implant is composed of durable titanium and has an abutment (a connecting element) screwed on top. For a beautiful, natural-looking result, the abutment is topped off with a tooth-colored crown or the prosthesis necessary for your treatment plan.
Our extensively-trained dentists, Dr. Deb Klotz and Dr. Rob Schlossberg, have many years of experience placing dental implants for long-lasting and natural-looking tooth replacement.
Many patients choose dental implants because of the wide range of benefits they provide, including:
Permanent replacement for tooth loss
Unlike dentures, no slippage or movement along the gums
Improvement in chewing and speaking
Customized to blend in seamlessly with adjacent teeth
Stops surrounding teeth from shifting, which can prevent jawbone loss
Aside from regular dental checkups and normal brushing and flossing, no additional maintenance is needed
If you would like to learn more about implant dentistry at our practice, we encourage you to read the information provided in the sections below.
Who Is a Good Candidate for Dental Implants?
Patients missing one or more teeth can be qualified candidates for dental implants. Suitable candidates must also have the following:
Healthy gum tissues and teeth
Adequate jawbone density to support the implant
No medical conditions that can hinder proper healing
No current chemotherapy or radiation treatments
At Bethesda Sedation and Implant Dentistry, we strive to utilize existing bone tissue as the foundation for dental implants. This way, patients who have experienced bone deterioration after tooth loss can still have a chance to receive dental implants. If additional treatment, such as extraction(s), bone grafting, and/or periodontal care is needed to increase the success of the dental implants, then Dr. Rob or Dr. Deb will make sure you finish those treatments before implant placement.
Video Image Placeholder
What Are My Dental Implant Options?
Bethesda Sedation and Implant Dentistry offers a variety of dental implant solutions. Depending on your restorative needs, you may be a good candidate for any of the following dental implant options:
Single Tooth Implants
Implant-Supported Dentures
Implant-Supported Teeth (Implant-Retained Dentures)
No matter which dental solution you choose, patients can expect their speaking and chewing capabilities to improve. During the consultation, Dr. Rob or Dr. Deb can help you find the optimal treatment to restore your smile.
What Is the Dental Implant Process Like?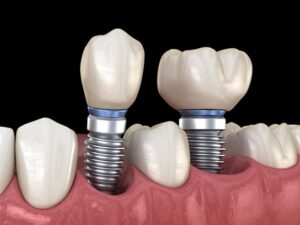 The first step of the dental implant process is to obtain a comprehensive dental examination from either Dr. Rob or Dr. Deb. The exam will help determine if you have an adequate amount of bone volume and density to properly support the number of dental implants needed. Some patients may need to undergo tooth extraction(s), bone grafting, or periodontal treatment before they can move on to the next step. Individuals who already have an ample amount of jawbone support can move on to the next step of finding the best placements for their dental implants. Our dentists use the innovative 3Shape TRIOS® and Carestream CBCT systems to aid in selecting the optimal locations to place the implants. After Dr. Rob or Dr. Deb finds the ideal implant positioning and your treatment plan is fully created, you may schedule a time for your dental implant surgery.
In the beginning of the dental implant surgery, Dr. Deb or Dr. Rob carefully inserts the implants (titanium screw-like posts) into the jawbone. Commonly, they use growth factors derived from your own blood to assist with proper healing after surgery. This is referred to as leukocyte platelet-rich fibrin. After the implants are placed, you must wait until the metal posts properly fuse with the jawbone—a process called osseointegration that can take several months. Often, a temporary restoration is attached to the top of the implant while the jaw fully heals. Once the fusion is complete, you will come back to the office for the final step in the process. Depending on your treatment plan, a customized dental crown, bridge, or full arch of teeth is placed on top of the fully healed implants. The implants become a permanent part of your mouth, and you can expect to confidently speak, eat, and smile after the implant process is completed.
What Do Dental Implants Cost?
Many patients consider dental implants to be a great investment for long-term oral health. With that said, the cost of dental implants can vary from patient to patient. At Bethesda Sedation and Implant Dentistry, your overall expense includes the dental implant surgery that is completed in our office and the restoration used for tooth/teeth replacement. There are other factors, such as the number of teeth being replaced and the type of sedation used, that can affect the price of treatment as well.
Video Image Placeholder
For more detailed information on the cost of dental implants, please visit our Costs and Financing page.
Additional Dental Implant FAQs
Are dental implants safe?
Dental implants are considered very safe when the implant process is done by a highly-qualified and experienced dentist, like Dr. Rob or Dr. Deb. To minimize any possible risks, our dentists utilize state-of-the-art dental implant technology and stay up-to-date with the latest techniques in implant dentistry.
Do dental implants hurt?
It is not uncommon for patients to feel a small amount of pain or discomfort after the dental implant surgery; however, symptoms can be easily managed with medication. If you are concerned about any pain or if you generally feel anxious about dental treatment, sedation dentistry options are available to make your experience as comfortable and relaxing as possible.
How long do dental implants last?
Dental implants are considered a permanent solution to replace missing teeth; therefore, they are designed to last for many years as long as they are properly taken care of. We recommend good oral hygiene practices and frequent dental check-ups at least twice a year to maintain the integrity of the dental implants.
How do I clean and care for my dental implants?
A general rule for dental implants is to take care of them the same way that you take care of normal teeth. This means brushing and proper home care along with getting professional dental cleanings bi-annually.
Are there age requirements or restrictions for dental implants?
Our dentists only perform dental implant surgery on patients who have reached skeletal maturity, meaning that their jawbone is fully developed. To make sure that the jawbone is sufficiently developed, Dr. Rob or Dr. Deb will take an x-ray to thoroughly evaluate the bone. Most of our patients that receive dental implants are older than 17, but there is no specific minimum age requirement.
If you are interested in learning more about dental implants or scheduling an appointment at Bethesda Sedation and Implant Dentistry, please contact us today!